27 Definitions for "Blog"
Last week I asked: what is a blog?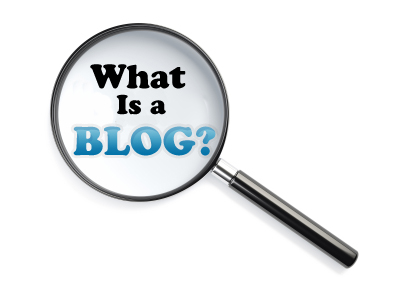 Apart from laying down my own definition on that post, I also invited readers to elaborate and share theirs. Blogging is a social and recent phenomenon after all, meaning that my definition for it might be different from yours, and both of them be right.

Twenty seven readers decided to took the challenge (if I missed anyone please let me know) and to define what a blog is. Below you will find a quote from their answered, with a link to their own posts (make sure to check them out, I just included part of that they had to say on the matter).

1. Rarst
Blog is a site you are reading today.
Knowing it was written yesterday.
Expecting it to be written tomorrow.
2. Andrew
Blogs enable the author to write lots of short, informative articles. I can categorize the articles, and they are all easily searchable. This allows my readers and clients to later find the information they need on my blog.
3. NimbeCare
I think it is a platform for me:

-To express myself
-To share the experience I have
-To share the knowledge I have
-To learn from other people
4. Karen South
My blog is a chronological log or online diary of my life. Because blogs are easy to update and a great reference of what I have accomplished I tend to keep up with it a lot more than I did my website. Since a blog often reflects the personality of the author it is also a great way to get to know people who share the same interest as I do.
5. EZMarketingTool
Blogs are simply software that makes it easy to get content onto the web. The modern "blog" is really just an easy to use "content management system" or CMS. Some blogs are hosted on individual hosting accounts just like "regular" static websites. These types of blogs carry the "responsibilities" of domain name registration, hosting and keeping the blogging software of choice up to date.
6. MayuOnline
A blog (a contraction of the term "Web log") is a Web site, usually maintained by an individual, with regular entries of commentary, descriptions of events, or other material such as graphics or video. Entries are commonly displayed in reverse-chronological order. "Blog" can also be used as a verb, meaning to maintain or add content to a blog.
8. http://info-architecture.blogspot.com/
Blogs are journals often authored by one individual, and sometimes teams. In the context of business communication, these are often used to talk with the marketplace and to join the conversation that existing external bloggers may be having.
9. http://infoqueenbee.blogspot.com/
Blog is a Website/Personal Online Journal, frequently/daily updated and the contents posted in Chronological order and are presented to the visitors in the reverse Chronological order. However links to the previous postings wherever necessary and relevant are given in the posts of blogging. Links to other blogs are also given wherever possible.
10. http://everydaythoughtsfromlife.blogspot.com/
Now that I have been writing for about 2 weeks I have come to find that blogging is a self-contained community that stretches around the world. Your blog is your window out to the world, so that everyone can see in to your hobbies, interests, and passions. Each blog has its own persona and mine is the nonsensical ramblings of the mind. This is one thing that interests me and now I get to share it with the world, and not only that but the world gets to comment and interact with me.
11. http://www.bloggingtune.com/
A blog is a space in the internet which an individual person/a group create to share their knowledge, offer opinions and provide service
12. http://broadcasting-brain.com/
Blogs are a combination of two well-known mainstream media outlets: the broadcasting studio and the traditional op-ed column.
13. http://spanish-podcast.com/
If I had to define what a blog is now, in 2008, I"™d say that blogs are an early 21st-century version of the public town square. Humans have always had a need for social contact and for information and blogs provide a platform for both.
14. http://www.successmakingmachine.com/
It doesn't matter. To someone who hasn"™t heard of the concept it"™s just a new/easy way for a person to publish content on the internet. That"™s all you need to know.
15. http://www.janetbarclay.com
It pretty well goes without saying that a blog is a website, but the factors that make a blog different than other websites are as follows:

1. A blog is updated on a regular basis, with new content being added to previous content, rather than replacing it.
2. Even professional blogs have a personal side to them, often reflecting the individual(s) behind the business.
3. A blog allows for communication between the author and his or her readers, rather than just providing information.
4. Even business blogs aren"™t 100% about promoting the company"™s products and/or services.
16. http://knittsings.com/
For me the answer is straight forward. A blog allows me to share photos and information with anyone, anywhere, at anytime. This is especially important for those of us addicted to knitting machines yet isolated from others who share our passion.
17. http://fwdsend.typepad.com/
A blog is just another way of being heard (check out the cartoon here also).
18. http://blaiq.typepad.com/
Any sufficiently advanced blog will be indistinguishable from its blogger.
19. http://www.back-links.org/
A simplistic, evolutionary website which allows users to effortlessly express them selves, share their knowledge and advice throughout the internet, they adapt and evolve to meet the needs of the present.
20. http://pink-ink-pink.blogspot.com/
1. Instant readership and feedback. When I write freelance magazine articles, I finally see the fruits of my labor MONTHS later. In contrast, I can blog about something timely and see it online seconds later!

2. An online community. I have made many friends through blogging. I cannot believe how many writers I have "met" this way, and I've learned so much.

3. A fun creative outlet. I love experimenting and personalizing my blog and saying, "Here I am!" to the world.
Browse all articles on the Blog Projects category
33 Responses to "27 Definitions for "Blog""
Paisakamana

Many great definitions on what a blog is 🙂

Frank Gil

Really good article worthy reading, though I don't know how to define my blog, gossip blog? Might be.

Robin

A very nice information. Can we link this content to our website without copying the entire content ?

Please let us know…

Mr Haarg

Could http://www.haarg.com be another creative definition?

czy

Hello

What a Great Job!

Wow…what a compilation of definition about BLOG, Thanks for that wonderful and plenty info.Hope other people could now understand what blogger put their blogs.It could help to those people who are insecure to the other's work.

Thanks a lot!! Nice job…
God bless U

Germán

Daniel,
You missed my definition 🙁

Sly from Slyvisions dot Com

Nice compilation. To me, a blog is basically what #23 says. It's a way for the blogger to write about something while the readers are open to read about it, whether it's informative or personal.

SATISH

Sad that I was not able to participate in this group project. I was very busy with some of my College works..
Will be keen to participate in the next projects.

techie

This is a great idea. I just want to add that blogging is also getting and sharing ideas from different bloggers all over the world. A pure, simple cultural intersection.

Rarst

Thanks for the link. 🙂

Roughly summing this up it seems that people mostly describe blog as something personal and/or something chronological.

I guess for me it leans toward chronological. Feeling of time is more characteristic for blog unlike personal touch (corporate blogs and such were mentioned numerously already).

Mark Dykeman

Hi Daniel, thanks for organizing this project.

Looks like I've found a few other interesting blogs to read!

SEO Genius

Yey! :~)

Well i ve read about 10 of them up to now, and there are some really well written opinions here.

Really glad i could participate in this group project…hurry up and get another one on the go! 😛

Daniel Scocco

@SEO Genius, curiously enough when I mentioned number 18 I wanted to say 19 🙂 . Not kidding hehe.

As I said I think all answers can be correct and meaningful, depending on your point of view, and I thank all the readers that the time to participate on the project.

SEO Genius

You don't like 19 :(:(

Daniel Scocco

@Ajay, I think that most of the provided definitions are right for their authors. They represent what a blog is for those people.

Most of the times though they do not tell the whole story about blogs. For example if someone says that a blog is "a place to share my opinions," this definition could be right for this single person, but it is not for the generic term "blog."

I particularly like definitions number 5, 13, 14 and 18 for the broader term.

Melvin

hahha.. forgot to do mine.,..

Ajay

Hey,

Thanks for the link. It's interesting to note the wide array of definitions, though most do have a similarity.

Would be great to hear your comments about the same?

Daniel Scocco
Daniel Scocco

@Bilingual Blogger, I don't 🙂 . The writing project was open to all languages though.

Writer Dad

What a wonderful list. It's enlightening to see how other bloggers define the word. Thanks for the gathering.

Bilingual blogger

Thanks for the link juice! By the way, Daniel, I didn't know you spoke Vietnamese! Quite impressive! 🙂

Pink Ink

Thanks Daniel, for including my post.

James

Daniel, this was a great exercise, however I don't see my definition here, which I submitted either Wednesday or Thursday of last week. I'm curious if you received it because this is the second time I've sent something to a blogging activity and never saw a thing. If you didn't receive it I need to figure out what is going on with my computer. If you did and it didn't meet the quality for posting . . . well I need to know that too. Or did I not follow the directions?

I'm new to blogging and admit to being shy in my participation. This gets me to wonder if all my posts are disappearing into cyberspace.

SE7EN

It's very interesting to see definition of blog from various blogers. 😀

SEO Genius

Great Daniel, thank you for this group project it is one i very much enjoyed.

Hope there is another one soon.
Comments are closed.