2009 Blogger Appreciation Awards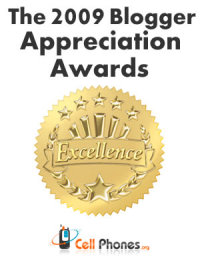 Do you think your blog deserves more recognition? Perhaps not your blog, but one that you read? Well, the guys from CellPhones.org are holding a Blogger Appreciation Awards where anyone can be nominated.
The only requirement is that the blogger must have been blogging for at least two months. Here are the three prizes:
1st Prize: 1 year of your cell phone bill on us (Cell Phones . Org) – up to $1000
2nd Prize: Free cell phone of your choosing (does not include plan, just the phone).
3rd Prize: $100 off your your next purchase at Cell Phones .org – this is transferable and never expires.
And the dates that you need to keep in mind:
Submissions Accepted until February 28th 2009
Voting until March 17 2009
Final Results March 19 2009
If you have some free time I guess it could be a good idea to submit yours. Ah, and keep an eye for Daily Blog Tips once the voting round starts.
Browse all articles on the Blogosphere category
20 Responses to "2009 Blogger Appreciation Awards"
Kayla

Wow, congratz. I never knew such awards existed.

Posiciona tu blog

congratulations !!!

Ajith Edassery

I voted for you Daniel…

Pavan Kumar

Well, I contested. Now I got a mail stating that I am one among top 200. If that is the case, why don't they announce it publicly? And they provide me the code which anyone can use and claim he is top 200.

Daniel, do you have answers?

Subscribed to notification, waiting for reply…

Tyrone

Well I like competitions, so I will surely go for it and try my best to win. Lets see what will be the result.

Tuesday

Thanks for letting us know Daniel 🙂 At least it can encourage more bloggers to improve their craft. Bloggers are really popping up everywhere, we need to be reminded of the best ones. I hope you win something Daniel!

diabetes man

that's great contest bos….. thanks for announcement

SEO Tips

I have just submitted my Blog however I am obviously not going to win by competing against other Blogs such as yours Daniel, nevermind.

Raghu

Wonderful, I submitted my request to participate.

Dean Saliba

I've entered, thank you for the heads up on this.

I've been entering quite a few contests and competitions lately.

Firas Steitiyeh

I have just nominated Weblist and I hope that all of us get good results!

Good luck everyone 🙂

Regards,

Firas

Melvin

oh yea, im gonna for you daniel! 🙂

joe comp

wow its a huge prize.i am interesting but i do not know if i am deserver or not.

David Turnbull

Damn, if only this competition was two months from now – I'd be eligible (just launched my blog today) 😛

Matej

"We think that bloggers are group of people who link out the most, like contests so we want to get some attention and links for lazy 2100 bucks at most" … not even homepage link for contest … … go figure …

Daniel Scocco

@Sam, I will try harder 🙂

Sam Duvall

I have been bad blogger since I started, so I'm not going to be joining this.

But I will be supporting DBT ;P
Your blog is great eventhough it hasn't done anything to my lazyness ;D

Seth

Well that is pretty neat… The prizes are awesome and I am excited to see if any DBT readers win anything. Good Luck everyone!

The Fashion Wizz

I'm gonna add mine but there's no chance I am going to win anything :))
Comments are closed.