10 Easy Ways to Improve Internal Linking on Your Blog
An effective internal linking strategy is important for a few reasons: 1) It helps to increase page views and encourage readers to stay on your blog longer by providing enticing links to content that may interest them, and 2) it can help to improve the search engine rankings for your posts and pages.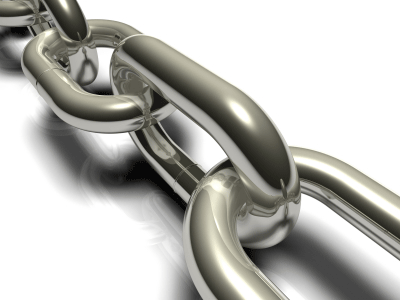 In this article we'll take a look at ten easy ways to improve the internal linking throughout your blog. Put these into action and you'll be well on your way to creating a more user-friendly blog and also helping your search engine rankings at the same time.
1. Use a sitemap
Sitemaps are not only important for helping visitors find what they're looking for, but they're also an easy way to increase the amount of internal links to your important pages. I'm not talking about XML sitemaps created for search engines (although they can be important too), but rather a sitemap for your readers with links to all of your posts, or at least your most important ones.
WordPress users can use the Sitemap Generator Plugin from Dago Design to automatically create a sitemap for their blog. This plugin creates a helpful sitemap page with links to your posts arranged by category.
2. Create a FAQ
Frequently Asked Questions pages can help you to get internal links to your posts while using highly targeted keywords and phrases. Create some common questions readers might have that can be answered by your blog posts. Pose the question on the FAQ page and partially answer the question and provide a link to a particular post for more information. When phrasing the questions, use keywords that readers are likely to use when performing a search, as this can help to improve traffic from search engines. Also use keywords in the anchor text of the links to your posts.
3. Link to related posts
Linking to posts on similar topics can help your readers to find additional content that may interest them. Just as importantly, it can also improve the number of internal links to your blog posts. You can manually create related links at the end of your posts, or you can use a plugin to do it for you. WordPress users can download the Related Entries plugin.
4. Include links to your most popular posts on your sidebar
Many blogs contain links to specific posts in the sidebar. Linking to those that are the most popular is a good way to increase your page views and also to improve your internal link strength. This also can either be done manually or with the use of a plugin. Doing it manually will require updates and changes whenever you want to feature new posts, whereas a plugin like MostWanted will eliminate the manual effort.
5. Write a series of posts
One easy way of building up the number of internal links going from one post to another is to write a series. As the series is written and published each post can link to the others. If you have a very long post, consider breaking it into a series. Be careful not to do this all the time as your readers may start to feel like you are using them to gain page views.
6. Do a weekly or monthly summary
Many bloggers wrap up each month with a post that links to some of the most popular recent posts on the blog with a brief description of each. This obviously gives you a chance to add some internal links, and it can help readers who may have missed some posts as well as new subscribers who may not have had the opportunity to read some of your best work.
7. Place links on your 404 pages
Error pages are frustrating to visitors. Help make your 404 error pages more-user friendly and drive a little bit of extra traffic to some of most important posts. Most WordPress themes include a 404.php file that can be edited to include and content you want, including links. If you are using a WordPress theme that does not include a 404 file, see the WordPress Codex for instructions.
8. Include links in your footer
Depending on what blog theme you are using, your footer may be wasted space that includes very little valuable content. Many visitors who have read to the bottom of your posts or scrolled all the way down looking for something will check the footer for relevant links rather than scrolling back to the top. Why not provide these visitors with links to other posts or pages on your blog?
9. Use text links throughout posts
As your writing your blog posts keep an open eye for opportunities to link to older posts. If you have text relates to the topic of an older post, create a link. As you build more and more content this will be even easier to do. It's also a good idea to periodically go back through some of your older posts to look for linking opportunities to more recent posts that did not exist at the initial time of publishing.
It may be especially beneficial to include links in the first few paragraphs of a post, as some bloggers have reported highly increased click-through rates from RSS readers with links high in the content,
10. The aLinks plugin for WordPress
WordPress users can take advantage of the aLinks plugin to automatically create links for commonly used phrases throughout their blog posts. The plugin is designed for use with internal links as well as external links (especially affiliate links).
Browse all articles on the Blogging Basics category
52 Responses to "10 Easy Ways to Improve Internal Linking on Your Blog"
Mel M. M. M.

Fabulous post! Thanks for all of the great ideas. :O)

Mario

These are really good tips. I am going to make sure to make the most of internal link building in my own sites, which I admit I have been kind of lazy about it.

masterza

Very interesting information necessary to verify and try all, thank you!

Kosol Anusim

Thanks for tips. I looked for and found in your blog. That's great!

Craciun Dan

These are great tips, especially the ones to include links to most popular posts in the sidebar and footer. That way when somebody reads an article until the end and will look for something else, the links will be right under their nose. Thanks for these!

Рассылка сигналов форекс

did you have something for blogger?

thePig

Thanks for an excellent post. Has exactly answered the questions I had.

I know you wrote this several months ago, but just spent 30 minutes searching for how to get the best out of internal linking and this is the best answer on the web!

PHP

Excellent post on a feature that is under everyone's eyes but is unknowingly overlooked. Internal linking by these examples seem to be just the extra push for exposure that webmasters need and is already at their disposal.

Ajith Prasad Edassery

Good tips… I guess it's impartant thing to cross-link your own stuff.

Regards,
Ajith

Nick

THanks for the tips

eastleigh business directory

some really useful tips there, i will add a FAQ section to my site.
thanks

Blanca

The more I learn about blogs, the more I regret using WinLive. Great ideas. Great information.

Java tutorials

This is a very helpful post.

liveweb

Great tips! One more idea I could suggest is to have a "home page" with link to all your posts. I have done this for my website: the blog is installed under domain-name/blog folder and if the user comes directly to domain-name, then I show the recent posts with link to individual posts. My idea was just to have a place where users can see summary of recent posts but it also helps with the internal linking.

AskApache

These are all great tips, some of the best things you can do for long-term seo success.. thanks! For 404 ErrorDocuments you have to try this Very nice coverage on this Google 404 Plugin.

Randy

Interesting tips, especially the one about that WordPress plugin. I'd never heard of that. Thanks!

Amit

I'm a little confused on this. In my blog (as in most other blogs too), my homepage is linked from every other page automatically because of the header link. Is that enough for the page rank transfer from my internal pages to my home page or should i provide a separate link to the homepage for that?

AskApache

Awesome tips! I am steadily implementing them and seeing fantastic results little by little. Hey you might really dig my plugin AskApache Google 404 that adds an Ajax powered Google Search to the 404.php page, and it searches for your sitename+the request_uri.

I still haven't used alinks though, I'll go check it!

Andreas (schweizweit.net)

Thanks for the aLinks Plugin Link! I was searching for a plugin like this for a long time.

Aurélien

thanks for your useful tips like usual 🙂

Scoot

This is an excellent blog, I'm getting the feed!

Skiing at Home

Thanks for the tips, I am a fairly new blogger. My blog is about backyard skiing and how to build a ski lift and so on so I plan on using lots of internal links.

Steven

Michael,
That's an excellent point. A glossary could work really well. I've seen a few on sites that focus on SEO.

Better Blogging with Michael Martine

Here's another one: Create a glossary. If you're in a very specific niche that has its own vocabulary, a glossary can help get newbies up to speed as well as provide the search benefits described above.

doug m

wow these are some great tips and plugins. thank!

Jerad Kaliher

Thanks, I've been looking for a plugin like aLinks for a long time now.

Daniel

I always forget to pay attention to point 9 :), and it is definitely worth it.

Copes Flavio

Thanks for sharing those valuable tips! 🙂

Mary Emma Allen

Great tips. Thanks.

Vinod

Thanks for bringing the aLinks Plugin over here.
Comments are closed.